We like to think of this page as a window to the past; remembering days gone by, or a place to learn a little bit about how those before us lived, loved, ate, sang, worked, worshiped or even dreamed.
With the holidays approaching we thought that you may be interested in trying a punch recipe from days of yore:
Chatham Artillery Punch c. 1791 and served to President George Washington
Ingredients
2 gallons of black or green tea steeped overnight
*Oleo Saccharum and Juice of 30 lemons
5-pound bag of brown sugar
2 gallons of dark rum
1 gallon of good brandy
1 gallon of gin
1 gallon of rye whiskey
2 gallons of Madeira wine
2 quarts crushed fresh cherries, pits and stems removed (soaked overnight in the brandy)
2 quarts of fresh pineapple chunks
10 quarts champagne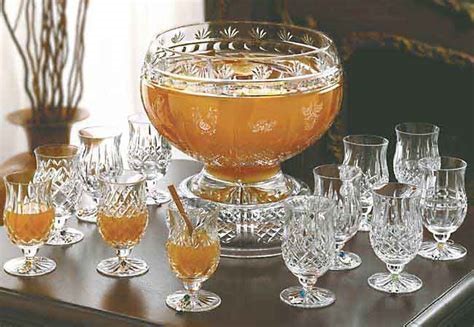 Process
*To make Oleo Saccharum [Oil] peal zest in strips from the fruit (don't use pith) toss with 5 pounds of brown sugar, cover and let sit for 24 hours. Juice the lemons, strain through fine sieve. Pour juice into container and add boiling water to lemon juice to equal two quarts of liquid. Pour the water/juice mixture over the zest/sugar mixture. Remove the citrus zest from the bowl. Stir mixture to completely combine juice, water and oil. This mixture may be refrigerated and stored for up to one month.
Mix all the ingredients above except the pineapple and champagne. This mixture may be stored in sterilized glass jars for up to 2 months. The longer the punch blends, the smoother it will become.
When it is ready for serving, pour the punch into large punch bowl, top with pineapple chunks and champagne. Add ice and let chill. Ladle into 8 oz. glasses. Serves about 175 people.
Milk Punch c. early 1700s
Ingredients
3/4 cup granulated sugar
2/3 cup hot water
1-1/2 cups Irish whiskey
3-1/2 cups evaporated milk (cooled)
Freshly grated nutmeg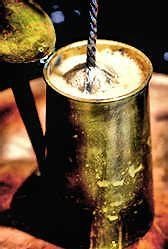 Process
Dissolve the sugar in the hot water. Leave to cool. Add the whiskey to the sugar water and chill. Mix in the evaporated milk. Garnish with nutmeg. Serves 2
Evaporated milk is milk heated to reduce the water content by 60%. To make your own evaporated milk. Simmer regular whole milk over medium low heat for about 25 minutes. 2 1/4 cups will reduce down to about 1 cup.